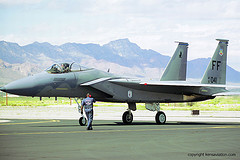 click on photo for more images
After more than three years of design studies McDonnell Douglas was selected as prime contractor in 1969 for the F-X advanced air-superiority fighter. The first F-15 flew in 1972.
A modified Eagle, the F-15E Strike Eagle performs the role of all-weather tactical interdiction aircraft retaining full air-to-air combat capability. The Strike Eagle first flew in 1981.
Both air-superiority and tactical-
interdiction Eagles were used extensively in the Gulf War.
Eagles are also flown by the Israeli, Japanese and Saudi Arabian air forces.
| | |
| --- | --- |
| | F-15A: single-seat fighter |
| | F-15B: two-seat trainer |
| | F-15C: improved single-seat fighter |
| | F-15D: improved two-seat trainer |
| | F-15E: tactical strike version named Strike Eagle |
| | F-15J: license built by Mitsubishi |
| | F-15DJ: two-seat trainer built by Mitsubishi |
| | F-15I: built for the Isaeli Air force named Ra'am (Hebrew: Thunder) |
| | F-15K: built for the Republic of Korea Air Force named Slam Eagle |
| | F-15S: built for Saudi Arabia |