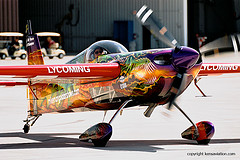 click on photo for more images
The Zivko Edge 540 is an advanced, unlimited class aerobatic aircraft and has the highest thrust to weight ratio of any competition aerobatic aircraft (as of 08/02/05). The fuselage is designed to take over 15 G's of sustained loading.

The earliest reference I've found for the Edge 540 is from 1995.