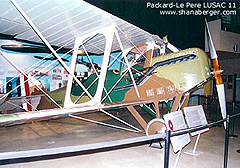 The LUSAC 11 was the product of a project to get an American built fighter into combat as quickly as possible. Designed by Capt. Georges Le Pere of France and built by Packard, the LUSAC 11 first flew in 1918. LUSAC stood for "Le Pere U.S. Army Combat".

Only 28 were built before production was canceled on Armistice Day. The LUSAC 11 achieved fame for its role in high altitude test flights. Fitted with a GE turbosuper-
charger, the LUSAC 11 reached over 34,500 feet in 1921.