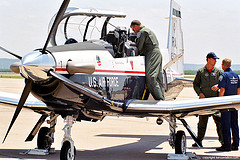 click on photo for more images
A development of the Pilatus PC-9 and named for the famous North American
AT-6 Texan of World War II fame, the T-6 first flew in 1992 with production beginning in 1998. The prototype was introduced as the Beech T-6; however, by the time this aircraft went into production, Beech, a division of Raytheon, had lost its identity within the parent organization.

The Texan II is replacing the Cessna T-37 in the U.S. Air Force and the Beech T-34C of the U.S. Navy.