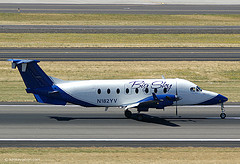 click on photo for more images
The Beech 1900 is a pressurized version of the Model 99 and first flew in 1982. Both the 99 and 1900 are based on the popular Beech King Air and Queen Air light executive aircraft.

The 1900D was introduced in 1990 offering improved headroom. Sales of the 1900 have been good with the 500th example being built in 1997.