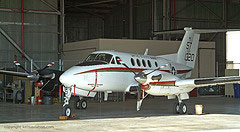 click on photo for more images
The Beech Model 200 Super King Air was developed from the Model 100 King Air. Changes included a T-tail, more powerful engines, larger wings and greater fuel capacity. The King Air 200 first flew in 1972.

The U.S. Military purchased the Model 200 as the C-12 Huron.

In 1996, Raytheon dropped the "Super" prefix for the Model 200, 300 and 350 King Airs.