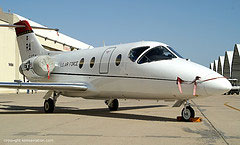 click on photo for more images
Mitsubishi first flew the MU-300 business jet on 29 August 1978.

In 1985 Raytheon acquired the marketing rights to the Mitsubishi Diamond, renaming it the Beech 400 Beechjet. Still marketed by Raytheon, this aircraft has been renamed the Hawker 400.

The U.S. Air Force has acquired the Beechjet to train cargo and tanker pilots under the designation T-1 Jayhawk.